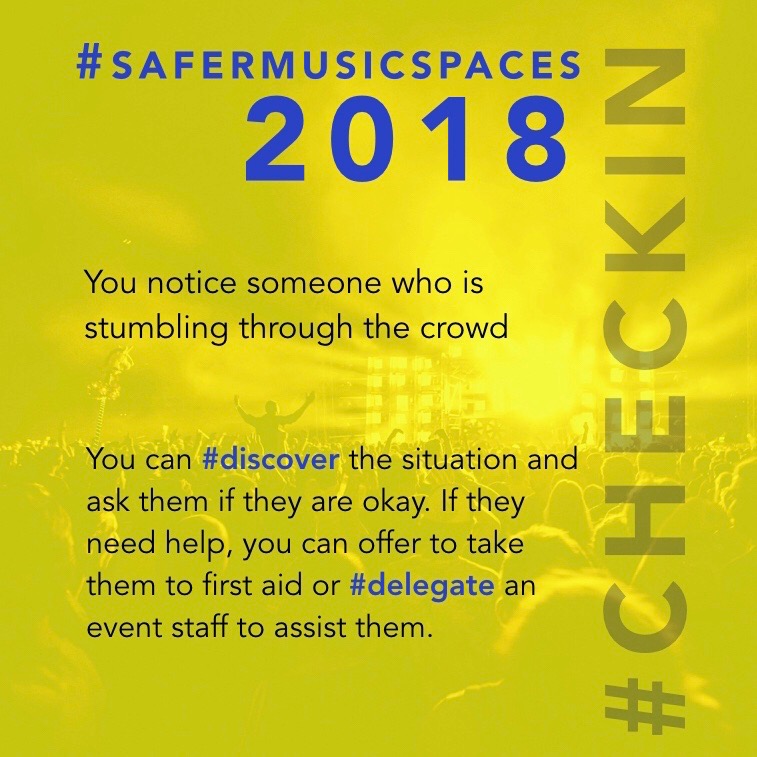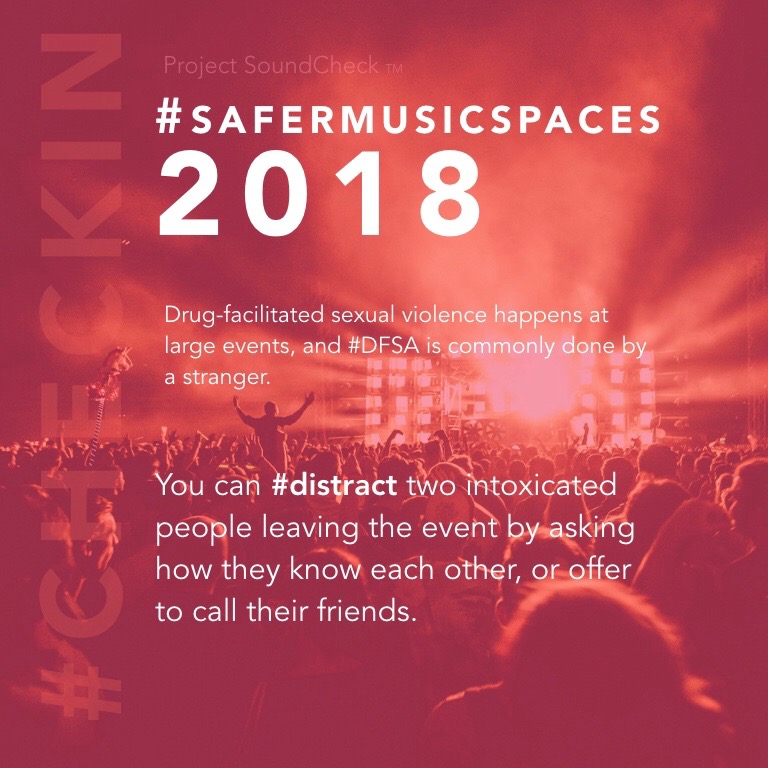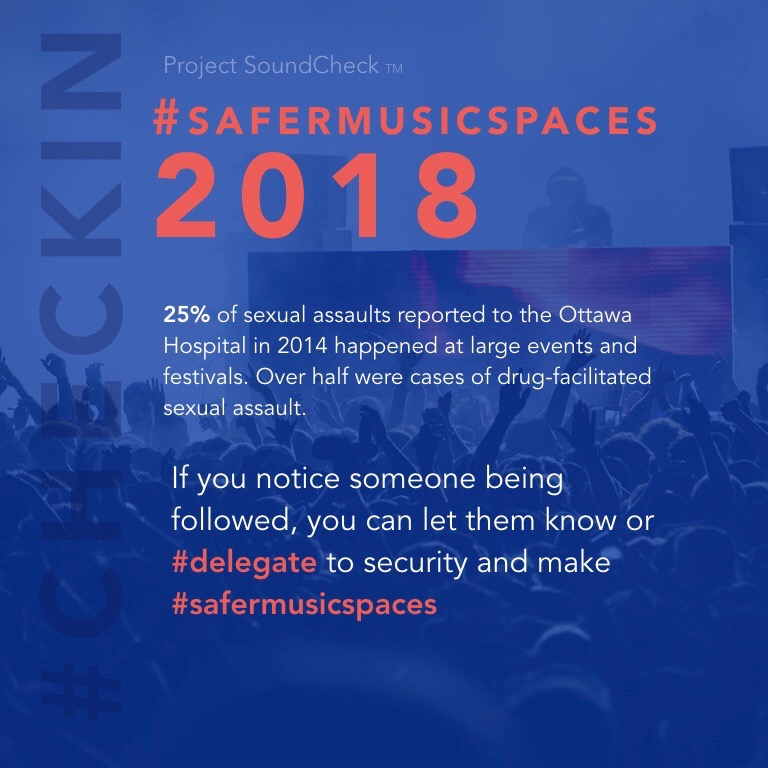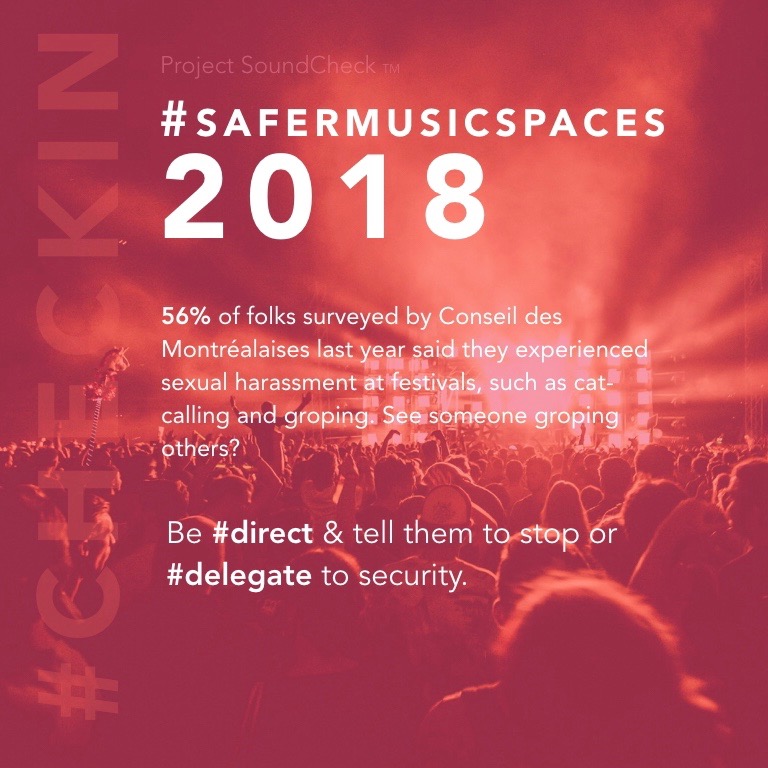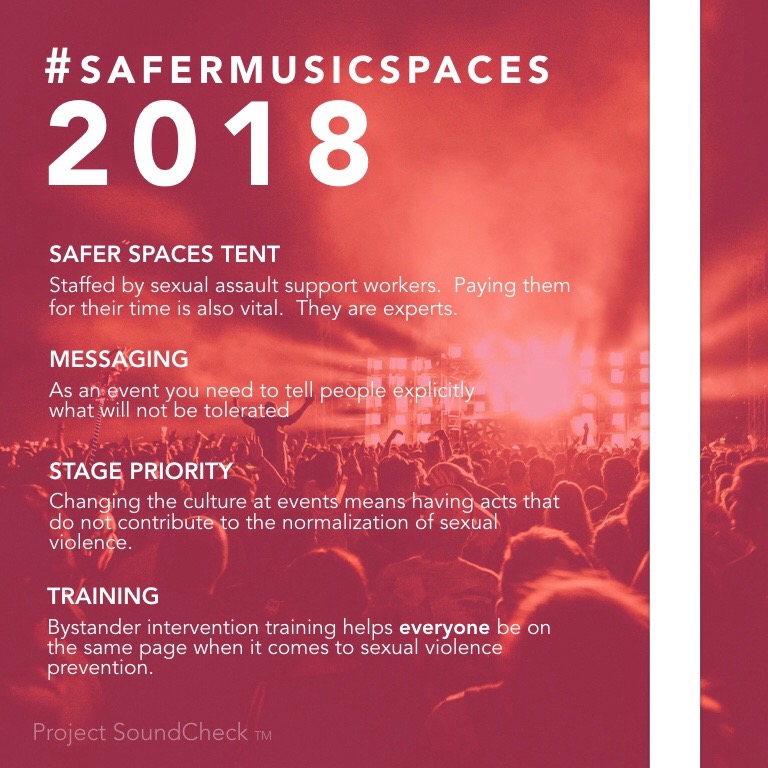 By Emma Kenny
With festival season in full swing, there's a lot to think about when it comes to staying safe.
Research by Dr. Keri Sampsel (Ottawa Hospital) showed that 25% of sexual assaults were linked to large festivals and events, 98% of the survivors were young women, and close to 60% were drug-facilitated sexual assaults. This doesn't have to be the norm.
Project SoundCheck is an Ottawa-based organization that works to prevent sexualized violence at large concerts and festivals. The initiative started in 2015 through a collaboration between the Sexual Assault Network of Ottawa and OCTEVAW (Ottawa Coalition to End Violence Against Women), with the support of the City of Ottawa Crime Prevention Program. Given these stats about festival safety in a city where there is at least one festival every weekend in the summer, this kind of program is desperately needed.
Here's how Project SoundCheck works. A festival or event can reach out to Project Soundcheck to schedule a free, interactive training session for their volunteers and staff. The workshop will take place during an previously scheduled core staff training event to ensure maximum participation and impact. The Project Soundcheck team focuses on providing festival teams with the tools to recognize sexual harassment and assault and intervene in order to prevent any further harm.
A training session takes about 45 minutes, and is done wherever the event organizers and crew are currently working. During a session, facilitators discuss the basis for bystander intervention work and highlight the barriers and implicit biases that can affect that work. The group then goes through some scenarios where participants are encouraged to share ideas and collaborate on the safest ways to approach some risky situations.
There are so many benefits to festivals and events engaging the services of Project SoundCheck as part of their staff training. By empowering festival crews and organizers with the skills to reduce and prevent sexual violence, Project SoundCheck actively works to create a city and music scene that is safer for everyone. Festival goers and organizers aren't the only ones who benefit from this increase in safety; artists also benefit from being a part of these safer spaces. The peace of mind that comes with the knowledge that everyone can enjoy the show is important, as is the Project SoundCheck policy that encourages artists to be active bystanders both on and off stage.
This is a feeling that MEGAPHONO's Rachel Weldon can attest to. "Working with Project SoundCheck has been a great experience for our team. It gives peace of mind to us as event organizers, but also to our artists and delegates who participate in the festival to know that our team has been trained in sexual assault bystander prevention. The training equips us with several different options of how to intervene or lend support to possible victims, and emphasizes the importance of keeping both the victim and the bystander safe and free from harm." Project SoundCheck training has a tangible impact on the comfort of festival attendees.
Project SoundCheck is unique because their training is specifically designed in collaboration with local hospitals and with the feedback of large festivals and live music events in Ottawa. Project SoundCheck's training is informed by recommendations from all levels of music festival planning and organization, as well as the perspectives and experiences of event attendees and community members.
Project Soundcheck Facilitator Elsa Mirzaei remarked that working on these initiatives is both challenging and rewarding. "Through teaching bystander intervention courses, I've learnt so much about how to connect with people from all walks of life, in order to empower them with tools and skills to take action and become active bystanders in their day-to-day lives." Mirzaei gets to the heart of the necessity and importance of the work Project SoundCheck does when they state that it "contributes to a larger cultural sphere within in Ottawa."
"By making events and festivals safer for women and queer folks, these marginalized groups can access cultural programming more easily," Mirzaei stated. "Music is such an important facet in so many people's lives, whether you are a fan, an artist, or an organizer. Making things safer and more accessible means that more people are able to engage with the arts, have more fun at the countless amazing local festivals, and ultimately improve their own lives through art."
While their core work is training, Project SoundCheck has also created a variety of customized tools for sexual assault prevention at large events. They recently launched their brand-new Anonymous Reporting Form, providing a safe way for people to share concerns and suggestions around festival safety and inclusivity! Next up is a campaign to make bystander intervention training a requirement of the Special Events permitting process with the City of Ottawa, thereby ensuring that every fest is as safe as possible.
If you want to learn more about bystander intervention and how to safely intervene and de-escalate a risky situation, come out to a FREE bystander intervention workshop co-presented by Project SoundCheck and Girls+ Rock Ottawa on September 20th from 7PM to 9PM at the National Arts Centre.